Biennial Meeting -- 2021
September 16-19, 2021 (Thursday - Sunday)
Ninepines Lodge, Charlo, Montana
The 2021 Cory Family Society Meeting will be held in Carlo, Montana.
Note venue change. Secretary Carolyn Corey is our local coordinator. Details in upcoming newsletters and below. Contact Carolyn at secretary@coryfamsoc.com or Earl Cory webmaster@coryfamsoc.com with any comments or suggestions.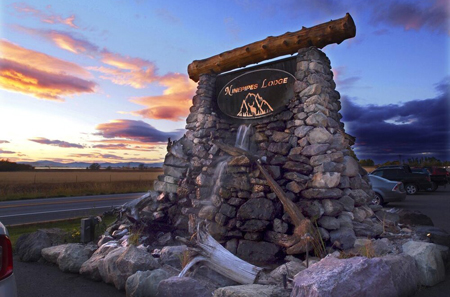 Ninepipes Lodge- Charlo, Montana is within a wildlife refuge overlooking the Rocky Mountains on the Flathead Indian Reservation in Western Montana. There have a restaurant, conference room, bar and rooms all under one roof.
The Museum next door has American Indian displays and a gift shop. In addition there are eight other musuems in the area: http://www.missionvalleymuseums.org/museums/
Allentown Restaurant has good, reasonably priced food. Excellent bar on premises w/wildlife taxidermy displays.
All of these sites are within 10-20 minutes apart from each other!!
Reservations:
Please fill out the 2021 Online Form or the Printable Registration Form. The online form will be emailed to the event organizer. If you choose to use the Printable Form, please mail it to:
Carolyn Corey
Four Winds Indian Trading Post
P.O.Box 580
St. Ignatius, MT 59865
secretary@coryfamsoc.com
Make reservation after January 1, 2021 at the Ninepipes Lodge using your credit card and asking for CORY FAMILY REUNION. This will be at reduced rate. Phone Ninepipes lodge at 406-644-2588 ask for Christy. The lodge has only 25 rooms.
If you wish for the meeting coordinator to make reservations at the lodge, please email her your credit card number and which type of room you would like. The types of rooms may be seen on the Ninepipes Lodge website.
Campgrounds
The Diamond S RV Park is 15 minutes from Charlo, just north of Ronan.
46711 Old US Highway 93
Ronan, MT 59864
Phone: 406-676-2267
Email: camp-diamond-s@ronan.net
Please note: Due to the Corona virus situation, their restrooms are not open. The tent area is closed, and RV's need to be self-contained. Face masks are required inside the office, for anyone five years old and older.
Transportation:
Airports:
Missoula 45 miles away south (50 min drive.)
Missoula is serviced by all airlines.
Alaska from LAX, Seattle, Portland.
American from Dallas, Chicago
Delta from Atlanta, Minneapolis, Salt Lake
United from SFO, LAX, Chicago, Denver.

Kalispell is 78 miles away north

Spokane, Washington - 2½ hours west
Southwest Airlines
Amtrak
Amtrak goes to Whitefish via the Empire Builder between Chicago and Seattle. Whitefish is a 1hr 40min drive from Ninepipes Lodge.
Things to do in the area:
Events:
Four Winds is the longest operating trading post as well as the oldest in Montana! Shop where the local Indians buy their supplies!! A visit to our old-time store is a trip back in history. Beads, face paint, deer & moose hides, dance bells, real sinew, & porcupine hair roaches (headdresses) are among the authentic goods found at Four Winds. The original log store was built in 1870 by Duncan McDonald & moved from nearby Ravalli to it's present location by Preston Miller almost 40 years ago.

Find old and new books here about local Indian history as well as about Duncan and his father, Angus, famous local Hudson's Bay trader who built nearby Fort Connah. Today, many of their relatives still trade in the store. Other Indian customers include Flathead, Kutenai, Pend Oreille, Blackfeet, Rocky Boy Cree, Shoshone, and Canadian tribes ie; Cree, Blackfoot, and Sarsi. Your purchases help us encourage & preserve their traditional arts & crafts. The spectacular view of the Mission Range of the Rocky Mountains which the Indians call the "Backbone of the World".

President Theodore Roosevelt established the National Bison Range on May 23, 1908 when he signed legislation authorizing funds to purchase suitable land for the conservation of bison. It was the first time that Congress appropriated tax dollars to buy land specifically to conserve wildlife. The overall mission of the National Bison Range is to maintain a representative herd of bison, under reasonably natural conditions, to ensure the preservation of the species.

The original herd of bison released in 1909 was purchased with private money raised by the American Bison Society and then donated to the Refuge. Today, 250-300 bison call this refuge home. To keep track of herd health, the Refuge conducts an annual Bison capture. And to ensure the herd is in balance with their habitat, surplus bison are donated and/or sold live.

The St. Ignatius Mission is a landmark Roman Catholic mission founded at its present location, St. Ignatius, Montana, in 1854 by Father Pierre-Jean De Smet and Father Adrian Hoecken. The current mission church was built between 1891 and 1893, and listed on the U.S. National Register of Historic Places in 1973.

This Catholic Church is unique because its walls and ceilings have 58 original paintings by Brother Joseph Carignano on them. The Mission Mountain Range is a beautiful backdrop of scenery behind the Mission Church. The church is located on the Flathead Indian Reservation. We have two very special paintings of the Salish Lord and Lord's mother (in Native American form) that are located in the back of the Mission.

Next to the Mission, we have a museum and gift shop that displays Mission and Indian artifacts and sells religious items. We also have the log home which was the original Sisters' residence when they first arrived.

in the Mission Valley, the trading post, which consisted of three buildings, was built by Angus McDonald and his assistant George Simpson Jr. in 1847.

Angus McDonald's Nez Perce wife Catherine joined him that fall with her newborn daughter Christina. They remained at the fort until he was promoted and transferred to Fort Colvile, Washington in 1852.

The fort was then taken over by his son, Duncan McDonald. By 1871, the fur trade era had ended and Fort Connah was closed by Angus' son Duncan in 1872, marking the end of the fur trade in the United States.

Today, there is one remaining original building from the original trading post that continues to stand. It is believed to be the oldest standing building in Montana and is listed on the National Register of Historic Places.

The Fort Connah Historic Site also includes two historic log cabins that were moved to the site which replicate the buildings that once made-up the original trading post. it is located between St. Ignatius and Charlo, Montana on US Highway 93.
Thursday Evening, September 16, 2021: Arrival and Check in
Hotel check-in begins at 3:00pm
Pick up final information at front desk.
Meet and greet around 5:00 pm in the hotel's Lounge.
Dinner on your own.
Friday, September 17, 2021:
Breakfast at hotel.
8:30 am – Depart hotel lobby and bus to first event
9:00 am - First Event
12:00 am - Lunch
1:55 pm - Depart for Second Event
2:00 pm - Second Event
4:00 pm - Depart for hotel
7:00 pm – Group Dinner
Saturday, September 18, 2021:
Breakfast at hotel.
8:30 am – Depart hotel lobby and bus to first event
9:00 am - First Event
12:00 am - Lunch
1:55 pm - Depart for Second Event
2:00 pm - Second Event
4:00 pm - Depart for hotel
7:00 pm – Group Dinner
Sunday, September 19, 2021; Brunch at the Hotel followed by annual meeting
Breakfast at hotel.
12:00 Check Out
12:00 pm – Lunch/Annual Meeting in Conference Room at the hotel
2:30 pm - Adjourn and say goodbyes
Biennial Meeting Agenda
September 19, 2021
Introduction of Members
Thank You to our host - Carolyn Corey
Reading of Minutes - Carolyn Corey
Treasurer's Report - Christina Cory
Genealogy Report - Thomas Corey
DNA Research Report - Thomas Corey
Website and Database Report - Earl Cory
Future of Society
Location and date for next Cory Family Reunion, Pacific Grove, California, Summer 2023
Approval for expensing of the meeting
Adjournment