Annual Meeting -- 2007
August 1-5, 2007
Oakland, CA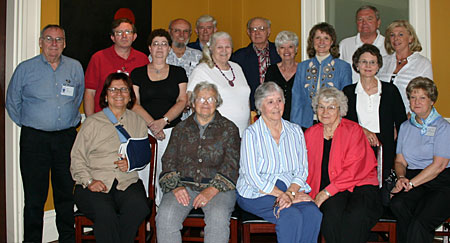 Washington Inn & Hotel
The Washington Inn Hotel, in downtown Oakland is one of Oakland's Historic Landmarks, just a half block from Broadway, directly across the street from the Oakland Convention Center. It was within an easy commute of San Francisco Airport, Oakland Airport, Amtrak, and the Bay Area Rapid Transit system (BART). The 12th Street BART station is just around the corner, one-half block away.
Events
The following agenda provided a varied and interested schedule that appealed to the whole family.
Wednesday Evening: Arrival, Check–in
We found each other in the hotel lobby, bar, or restaurant Meeting packets were at the hotel counter at check it. It contained brochures, maps, list of local restaurants, sights, itineraries, and other information.
Thursday: San Francisco, Sausalito, Marin Headlands
Meet at 9:00am at the Jack London Ferry Landing. Jack London and took the Oakland/Alameda ferry at 9:15 am, arriving at San Francisco's Historic Ferry Building at 9:45 am. We had a 5 hour private tour of San Francisco, Sausalito, and the Marin Headlands. The tour ended at 4:15 back at the Ferry building. Details of the tour can be seen at http://www.sanfranshuttletours.com/itinerary_day_1.htm

That evening, we met for dinner at Jack's Bistro in Jack London Square. After dinner we were on your own to explore the area.
Friday: California History and Wine Tasting
Our tour bus picked us up at our hotel at 9:00 am. We traveled an hour north though Marin County to the Petaluma Adobe State Historic Park. This was the adobe home of California's first Governor, Mariano G. Vallejo, where we had a guided tour by a park ranger. Our tour followed the life of General Vallejo and give a new and I think, interesting, perspective on the history of California and its relationship with Mexico.

During the tour Jan Sharp discussed the lives of the C. Reuben Corey family on our way to visit the Corey residence in Bloomfield, halfway between Petaluma and Bodega Bay.. C. Reuben Corey, from the William Line, was born in 1801 in Massachusetts and lived part of his life in Quebec. Their sons Hiram and Noah came to California via Nicaragua in 1852. Hiram latter moved his family to a large ranch in Salinas.

The bus pulled into Sonoma's central plaza about 12:30. Sonoma Square was the largest of its kind in California.

We spent 2 hours for a guided tour of Mission San Francisco Solano and a quick lunch. At 2:30pm we boarded our bus for the short ride to General Vallejo's home at Lachryma Montis.

The Sonoma and Napa valleys are just two of the many valleys in this area of California that are know for their wines. The wineries of Sonoma tend to be a bit smaller and the tourist less thick, but the wines are just as good if not better. The Benziger Family Winery pulled a tram of us through their Sonoma estate vineyards, gardens and wildlife sanctuaries for a 45-minute adventure in winegrowing. Along the way, they stopped so that we could take a closer look at the vines, learn more about their site-specific farming practices and enjoy the breathtaking scenery. Our private tour included a visit to their underground estate caves and a private tasting of four of their wines
Dinner was at the Ranch House Mexican Bar and Restaurant. They served authentic food in the style of the Yucatan.
Saturday: We were on your own
People visited the many sites in the area. In the afternoon, they all gathered at Earl and Christina's house for a California barbeque and Tequila tasting.
Sunday: Buffet Lunch at the hotel followed by our annual meeting.
Annual Meeting Agenda
August 5, 2007
Introduction of Members
Thank You to our hosts - Earl & Christina Cory and Jan Sharpe
Reading of Minutes - Sue Corey
Treasurer's Report - Jim Corey
Genealogy Report - Thomas Corey
DNA Research Report - Thomas Corey
Website and Database Report - Earl Cory
Location and date for next Cory Family Reunion

Yellowstone
New Brunswick
Ohio

Approval for expensing of the meeting
Adjournment