Annual Meeting --- 2009
July 31th - August 2nd, 2009
Holiday Inn
Beaver Falls, PA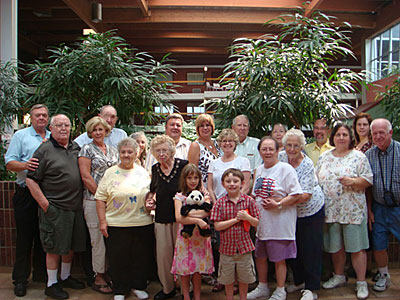 This year we met with the Western Pennsylvania Area Cory Reunion Association celebrating their 100th anniversary meeting.
July 31, 2009 Friday

We met at the hospitality room on Friday night to get acquainted and meet our cousins from the John Cory line (the Thomas and William Cory line still consider all the Cory's as cousins). There was a dinner for all who attended Friday night.


August 1, 2009 Saturday

A tour of the Little Beaver Historical Society Greersburg Academy and other historical buildings in Darlington, PA was conducted by Little Beaver Historical Society President, Alan Ferguson, and Mrs. Harry (Ruth) Sanders beginning at 10:00am

100th. Anniversary of the Western PA Area Cory Reunion The Anniversary Celebration was held at the East Palestine Community Center at the East Palestine Park .


August 2, 2009 Sunday:

Buffet Lunch at the hotel followed by our annual meeting.
Annual Meeting Agenda
August 2, 2009
Introduction of Members
Thank You to our hosts
Reading of Minutes -
Officers - New Secretary
Treasurer's Report - Jim Corey
Genealogy Report - Thomas Corey
DNA Research Report - Thomas Corey
Website and Database Report - Earl Cory
Location and date for next Cory Family Reunion - Bristol England, 2010
Approval for expensing of the meeting
Adjournment