Annual Meeting --- 2015
September 17th - 20th, 2015 (Thursday - Sunday)
Holiday Inn, New London, CT
New London is a seaport city and a port of entry on the northeast coast of the United States. It is located at the mouth of the Thames River in New London County, southeastern Connecticut. For several decades beginning in the early 19th century, New London was the world's third busiest whaling port after New Bedford, Massachusetts, and Nantucket. The wealth that whaling brought into the city furnished the capital to fund much of the city's present architecture.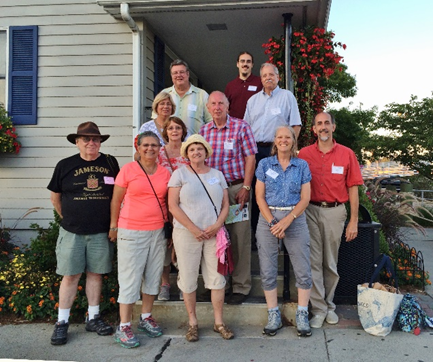 Front Row: Earl and Chris Cory, Chris Koehler, Sue and John Corey.
Second Row: Marilyn Corey, Pat and Les Cory.
Top Row: Colin Cory, Ethan Corey, Dave Cory
This year, 2015, marks the 375th anniversary of the founding of Southold, Long Island. It was the first English settlement in New York State. John Cory, one of the earliest settlers in Southold, came to America in about 1637. "We believe that he was one of the men who assisted John Youngs on October 21, 1640 in the organization of the First (Presbyterian) Church at Southold, Long Island, New York. (see photo below). John Cory is mentioned as being from Southold and as the Whale Commissioner 7 March 1644."
Events and Itinerary
Thursday Evening, September 17, 2015: Arrival and Check in
Hotel check-in begins at 3:00pm
People arrived at various times and received weekend itinerary with contact information for organizers.
Friday, September 18, 2015; New London, CT
Breakfast at hotel (La Luna)
9:40 am – Meet in the Hotel Lobby for tour briefing.
10:00 am – Guided City Tour of New London, CT by Mark Roberts, local historian.


Visit Harkness State Park
Visit the Customs House Maritime Museum


12:00 am - Lunch at Muddy Waters Cafe
1:30 pm - Visit Mystic Seaport
4:00 pm - Return to hotel
6:30 pm - Dinner at Daddy Jack's
Saturday, September 19, 2015; Southold, Long Island, New York
Breakfast at hotel (La Luna)
9:15 am – Meet in the Hotel Lobby
10:00 am - Take Ferry to Orient Point, NY
11:30 pm - Board Tour Bus at Orient Point for Wine tasting at Bedell Winery at Corey Creek
12:15 pm - Enjoy lunch at Corey Creek
2:30 pm – Visit Cory family sites with Daniel McCarthy (organizer of 375th Southold anniversary celebration) Sites include:

Southold Historical Society
Downtown church
Old Cory Lot
Cory Creek Inlet

5:30 pm - Take shuttle bus back to ferry, arrive at ferry at 5:30 pm
6:00 pm - Take ferry back to New London, CT
8:00 pm - Drive directly to a family dinner at: On The Waterfront in New London
Sunday, September 20, 2015; Brunch at the Hotel followed by annual meeting
10am - Breakfast at hotel
12:00 Check Out
12:00 pm – Annual Meeting in the Governor's Room at the hotel, including viewing of Greate Book
2:00 pm - Adjourn and say goodbyes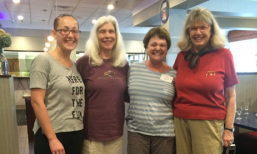 September 20, 2015
Introduction of Members
Thank You to our host - Samantha L. Corey
Reading of Minutes -
Officers - New Secretary
Treasurer's Report - Jim Corey
Genealogy Report - Thomas Corey
DNA Research Report - Thomas Corey
Website and Database Report - Earl Cory
Location and date for next Cory Family Reunion
Approval for expensing of the meeting
Adjournment