Biennial Meeting -- 2019
July 11-14, 2019 (Friday - Sunday)
Sheraton - West Des Moines, Iowa
The 2019 Cory Family Society Meeting was held on July 11-14, 2019 at the Sheraton in West Des Moines, Iowa. .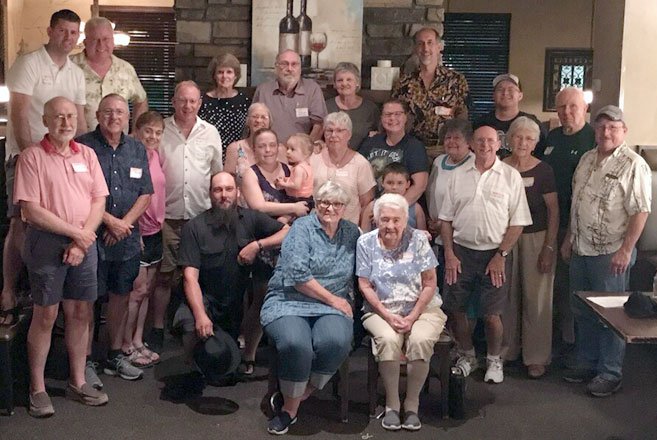 The history of Des Moines can be traced to 1834, when John Dougherty, an Indian Agent at Fort Leavenworth, KS, recommended that a military post be established at the point where the Des Moines and Raccoon Rivers merge. Nine years later, May 1843, Captain James Allen and a company of dragoons from Fort Sanford arrived on the site. Captain Allen proposed to name the garrison Fort Raccoon but was directed by the War Department to use the name Fort Des Moines. The origin of the name is uncertain, but most historians agree that the name probably initially referred to the river. Some people feel that 'Des Moines' is derived from the Indian word 'moingona' meaning river of the mounds which referred to the burial mounds that were located near the banks of the river. Others are of the opinion that name applies to the Trappist Monks (Moines de la Trappe) who lived in huts at the mouth of the Des Moines river. French voyagers referred to the river as La Riviere des Moines. The consensus seems to be that Des Moines is a variation of Moingona, Moingonan, Moingoun, Mohingona, or Moningounas, as shown on early maps.
Iowa Genealogical Society was founded in 1965 by a small group of dedicated genealogists who met in members' houses and carried the original collection in an orange crate. Today, their membership is worldwide and the book collection alone spans the length of over 5 football fields.
Events and Itinerary
Thursday Evening, July 11, 2019: Arrival and Check in
Hotel check-in begins at 3:00pm
Pick up final information at front desk.
Meet and greet around 5:00 pm in the hotel's Waterfall Grille & Lounge.
Dinner on your own.
Friday, July 12, 2019:
Breakfast at hotel. Park Place Restaurant
8:30 am – Depart hotel lobby and bus to Capitol Building and State Historical Museum, Des Moines capitol area
9:00 am - Iowa Capitol Building Tour
10:30 am - Iowa Historical Society Museum/Archives/Library
12:00 am - Depart for Urbandale
12:30 am - Lunch at Machine Shed Restaurant, Urbandale
1:55 pm - Depart for Living History Farms
2:00 pm - Visit Leaving History Farms, Urbandale
4:00 pm - Depart for hotel
7:00 pm – Group Dinner at Bonefish Grill, West Des Moines
Saturday, July 13, 2019:
Breakfast at hotel. Park Place Restaurant
8:00 am – Meet in the Hotel Lobby for tour briefing
8:30 am - Depart for Elkhart
9:00 am – Visit Cory Grove Church, Elkhart
10:30 am - Depart for Principal Park
11:00 am - Visit Principal Park, Des Moines capitol area
11:30 am - Lunch at Iowa Tap Room, nearby
1:15 pm - Depart for Salisbury House
1:30 pm - Guided tour of Salisbury House & Gardens (Closes at 5:00 pm)
On your own in the afternoon
7:00 pm – Group Dinner at Firecreek Grill, West Des Moines
Sunday, July 14, 2019; Brunch at the Hotel followed by annual meeting
Breakfast at hotel. Park Place Restaurant
12:00 Check Out
12:00 pm – Lunch/Annual Meeting in Polk Conference Room at the hotel
2:30 pm - Adjourn and say goodbyes
Biennial Meeting Agenda
Summer, 2019
Introduction of Members
Thank You to our host - Joseph Cory
Reading of Minutes - Carolyn Corey
Treasurer's Report - Christina Cory
Genealogy Report - Thomas Corey
DNA Research Report - Thomas Corey
Website and Database Report - Earl Cory
Future of Society
Location and date for next Cory Family Reunion
Approval for expensing of the meeting
Adjournment