Coats of Arms
The custom of adopting artistic designs on shields or elsewhere by rulers in medieval Europe began early in the 14th century for identification and as signs of authority. Initially arms were adopted by individual nobles by proscriptive right and it was not necessary to inherit the right to display such arms.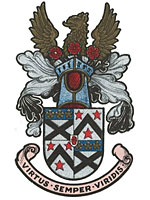 As the custom became more popular the use of symbols to distinguish certain families grew. Because of duplication of popular designs various governments designated individuals known as Heralds to systematize, standardize and supervise the selection of colors and symbols used in family coats of arms. Like all government entities for all times these Heralds soon grew into a bureaucracy which regulated and sold the rights to fly certain designs and colors. Coats of Arms soon became associated with status or nobility. A tax was paid for the rights to a specific design.
Heraldry is the term used for the study and standardization of designs used to distinguish individuals and families.
However, from the beginning of the 15th century laws were passed by rulers in Europe forbidding anyone to display arms unless he had them by right of ancestry or by the grant of lawful authority. In England the right to display arms only by inherited right or by grant of lawful authority was established by a writ of Henry V in 1417. In England, King Richard III established the Herald's College (College of Arms) in 1484. It was this college who decided who was entitled to wear a specific coat of arms and its design. By the 16th century, it was the rule practically everywhere in western Europe that new arms could be displayed only by grant of the sovereign.
Thus the display of arms is a relic of feudalism in Christian Europe, but it continues to be a living reality through its nobility functions in modern Europe. Arms continue to have a legal status in much of western Europe, especially England where the granting of arms is regulated by the College of Arms in London. Arms (in England) can be inherited only through direct male line descent from the man who was originally granted the right to display such arms. Moreover, every individual who wishes to display arms must apply to the College of Arms and must provide rigorous proof of his direct male line ancestry, a very expensive process.
The process of obtaining the right to arms is called "matriculation". The arms must show where the petitioner comes in the family line. Consequently, the petitioner applies for the right to display "differenced" arms, where "differencing" is a way of showing where the petitioner comes in the family line.
The American revolution was partly a reaction against the feudal establishment of Europe, and the constitution of the United States specifies that no titles of nobility will be granted. As a corollary, arms have no legal status in the USA. Because three centuries have passed since titles and arms had a legal status here, most Americans have only a hazy understanding of the original significance of arms, and no appreciation of how they are regarded elsewhere. To most Americans, a Coat of Arms is merely a symbol associated with a family name.
Since researching family history has become popular here, many Americans have adopted the custom of displaying so-called "Coats of Arms" in their homes, on business cards, and letter-heads. The Arms they display are usually thought, often mistakenly, to have some connection with their family name. The custom has been promoted for commercial purposes both in the US and abroad. For example, Halberts1 used to sell Coats of Arms for almost all names, be they English, French, German, Spanish, and even Chinese!
The Coat of Arms distributed by Halberts for the Cory name was granted to Sir James Herbert Cory, born 7-Feb-1857, when the Baronet (U.K.) was created, 13-May-1919. There are probably no Corys of this lineage in the United States.
The habit of displaying Arms in American homes is not likely to disappear in the near future, and hardly anyone in America regards this as a serious matter. However, a question arises as to the wisdom of an organization adopting a Coat of Arms as a logo. The question is not primarily a legal one, since Arms have no legal status in America.
However, English members or an organization could be breaking their laws if they display arms that have not been matriculated by them. It is not clear how English courts would react to the display of an imitation of a Coat of Arms.
A serch of "Cory" on th Burke's Peerage website returns returns 219 results.
The Coat of Arms shown here has been displayed in many Cory publications. These include:Harriet Cory Dickinson's " Some chronicles of the Cory family relating to Eliakim and Sarah Sayre Cory and their descendants, Westfield, N.J., Ballston Spa, N.Y., with others from John of Southold", Harry Harmon Cory's book The Cory Family. on the cover of Dorthy M. and Francis D. Corey's book, Descendants of William Corey 1615/20--1682, First Immigrant, A Genealogy, and as a full color plate in that book and Cory's of America, 1st Edition.
The following description of the Coat of Arms are from Harriet Cory Dickinson's publication.
Sable, on a chevron, between three griffins' heads, erased or as many estioles, gules.

Crest - Out of a ducal corornet, a griffin's head between two wings or, each wing charged with three estioles, in pale, gules.

Motto - "Forti Tene Manu" (hold with a firm hand.)
These arms were granted to Sir John Cory of Bramerton Hall, Norwich, England, in 1612, by James I and confirmed to his son, Sir Thomas Cory, of Bramerton Hall by Charles I in 1637. They may be associated with at least one line of Corys in the United States.
In The Cory Family, it states that there was an old print of the Coat of Arms copied from an engraving on a pitcher once owned by Mr. Corrie, of Sag Harbor, L. I., who brought it from London in 1799. A recent article in the Cory Family Society Newsletter shows several views of the pitcher.
For more information on Heraldry, check out https://www.burkespeerage.com/heraldry_glossary.php and https://www.burkespeerage.com/heraldry_arms.php.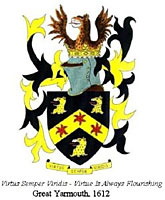 In the Cory families there are a number of officially granted coats of arms. There are also arms borne by the Corrie/Corry families with which the Corys have sometimes been confused. These are all described in Chapter 20 of The English Corys by Michael & Vernon Cory. The blazons (i.e. descriptions) and identifications for the Cory arms are as follows:
Great Yarmouth: Arms confirmed in 1612, to John Cory of London, Gent., grandson of Thomas Cory, born in Great Yarmouth but later living in London, of Bramerton line. According to Le Neve, John Cory (1538-81) was the first to bear these arms.
The Arms: Sable, on a chevron or between three griffins' heads erased of the second as many estoiles gules. Crest: Out of a ducal coronet or, a griffin's head between two wings expanded proper. Motto: Vitus Semper Viridis.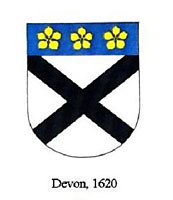 Devon (Visitation to Devon) 1620:
John Cory signed the Visitation to Devon 1620 with his brother, Andrew, of Cory Barton, West Putford.
The Arms: Argent. a saltire sable on a chief azure, three cinquefoils or. No Motto.
Cory (Visitation to Cornwall) 1620: (not illustrated)
A reference to a church memorial coat of arms, formerly found in Jacobstow, North Cornwall states:-'Cory, a genteel family, long resident in the counties of Cornwall & Devon, particularly in the Hundred of Stratton'.
Cory (London) 1620 (not illustrated)
Closely resembling the above, this presumably refers to a London emigre of the Norfolk Bramerton family.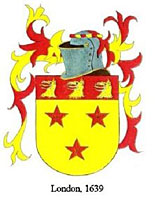 Inner Temple, London:
Thomas Cory Chief Protontary of the Court of Common Pleas. 18th March 1639.
The Arms: Or, three mullets gules, on a chief of the second, three griffins' heads erased of the first'. No Motto.
Whalesborough, Cornwall:
The Herald's Visitation in 1573 lists only four generations at Marhamchurch parish in the manor of Whalesborough:Thomas & William Cory 1543; Thomas Corie, 1569; Thomas Cory 1581/2; Richard & Cory 1583. The information is deficient in birth and marriages dates and therefore limited.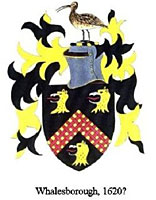 The arms: Sable, on a chevron or, fretty gules between three griffins' heads erased of the second, Crest: a curlew proper'.
Cory: Cumberland, Northumberland and Scotland.<br>(Not illustrated).
From Burke, 'General Armoury' 1884, the date and holder's name are not stated. The supposed, but quite insubstantiated connection with the Devon Corys is implied.
The arms: As West Putford Corys, but the chief sable replaces chief azure.
Cory-Eade: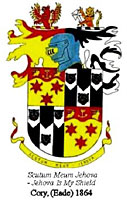 Rev. Henry Cory Eade M. A. of St John's College, Cambridge, son of Elizabeth Wymond Cory & Matthew Henry Eade. Secretary to the Irish Church Mission upon his taking the name of Cory, in lieu of Eade, by royal licence 1864.
The arms: First and fourth or, three estoiles, two and one gules on a chief wavy of the last, an anchor between two griffon's heads erased of the field for Cory. Second and third per fesse dancette argent and sable a pale counter charged three leopard faces of the second for Eade. Crests: First Cory a demi-griffon gules wings expanded vaire or and gules charges on the breast with an anchor or, second Eade, a demi-lion guardant proper collared sable supporting a cross pattee, fichee argent. Motto: Scutum Meum Jehova.
Cory or Corie (Not illustrated)
From Burke, General Amoury' 1884. Again the date and holder's name are not stated.
The arms: As Cumberland, Northumberland and Scotland but the crest differs: A griffin's head gules between two wings expanded or, each charged with a mullet of the first. Again the Devon connection may be implied.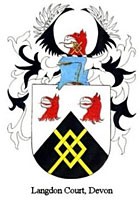 Langdon Court, Devon:
Richard Cory son of Wm Cory, London coal & shipping magnate, descended from Stratton Corys. The arms have some similarity with those of the Bramerton lines, but the two families are not related.
The arms: Per chevron argent and sable, in chief two griffins' heads erased gules, and in base a fret or. Mantling: sable and argent. Crest: on a wreath of colours a griffin's head couped gules, charged with a fret or, between two wings per chevron argent and sable. No motto.
Llantarnam Abbey, Monmouth 1907: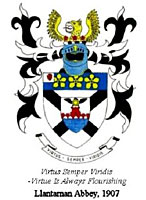 Sir Clifford John Cory descended from John of Cory Barton West Putford (1505-1563). He was created a Baronet in 1907 and died in 1941 without issue.
The arms: Argent, a saltire sable. On a chief azure three cinquefoils or. An excutcheon argent, over water proper, a bridge of eagle displayed sable, charged with a bezant for Lethbridge. Crest: out of a wreath of his colours a griffin's head between wings expanded or, fesswise three roses gules. Mantling: Argent and sable. Motto: Virtus Semper Viridis. The saltire is retained.
Cardiff: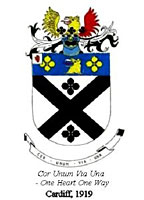 Sir James Herbert Cory, created a Baronet in 1919, was not a descendant of John of Cory Barton, West Putford. Arms derive from Cornwall Visitation of 1620.
The arms: Argent, a saltire between two quatrofoils in pale sable, on a chief azure a griffin's head erased between two quatrofoils or. Crest: A griffin's head erased or between two wings per pale of the last and gules, three quatrofoils sable. Motto: Cor Unum Via Una. The saltire is retained.
Cory (St Mawes, Cornwall). (Not illustrated)
A memorial plaque to Rear Admiral Nicholas Cory (1795-1864) of St Mawes including a coat-of-arms is to be found in the church of St Just in Roseland, Cornwall. The admiral is known to be descended from the North Cornwall Corys who originated with Nicholas Cory of Stratton. He was not related to Thomas Cory, who was of the Norwich line.
The arms, granted in 1693, are identical with those of Thomas Cory of London, but with the motto Scutum Meum Jehova.
---
1. Halberts, 3687 Ira Road, Bath, Ohio 44210. Halberts was a company that sold coats of arms and books for almost all names. An injunction was placed upon them in 1996 to stop them from misleading sales practices. In Europe the operation was coordinated with that of one of the many "Burke's Peerage" companies, and used that famous name, but it had no connection with the publishers of the Burke's Peerage & Baronetage. Cendant of Parsippany, N.J., the parent company of NUMA/Halbert's, announced that the publisher of pseudo-genealogy "books" will cease operations. Cendant was tried to sell Halbert's and all other divisions of NUMA, but apparently Cendant was unable to find a buyer. NUMA/Halbert's stopped marketing in August 1999 and ended operations Sept. 30.