Corys who have achieved prominence in the Americas have been the following:
William Ellis Cory | Dr. Benjamin Cory, M.D. | Harvey Cory | Wendell Reid Corey | Charles Barney Cory
Arthur Thomas Corey | Eleanor Cory | George Cory | Peter deCarteret Cory | Elias James Corey| More
Erasmus Darwin Keyes (May 29, 1810, Brimfield, Mass - October 14, 1895, Nice, France) (John of Roxbury)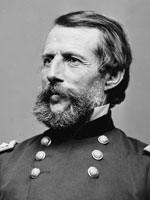 A prominent Union general officer, Erasmus D. Keyes was one of the original five corps commanders of the Army of the Potomac.
Erasmus Darwin Keyes was born in Brimfield, Massachusetts on May 29, 1810. He was one of three children of Justus Keyes and Betsy Corey. The elder Keyes was a prominent physician, who had designs for his son to become a merchant. The son had different aspirations and was determined to pursue a military career. After twice failing to obtain an appointment to the United States Military Academy, Keyes wrote to U.S. Secretary of War, James Barbour pleading his case. Barbour responded favorably, and Keyes received the desired appointment in 1828. He graduated 10th out of a class of 45 in 1832, and was commissioned a brevet second lieutenant in the 3rd U.S. Artillery.
Keyes served in Charleston Harbor during the nullification crisis of 1832–33, and served as an aide to General Winfield Scott from 1837 to 1841. Keyes was promoted to captain on November 30, 1841. He served in various garrisons until 1844 and then functioned as an artillery and cavalry instructor at West Point. During 1844, he was a member of the Academy's Board of Visitors.
After his service at West Point, he was then sent with the 3rd U.S. Artillery Regiment in 1854 around Cape Horn to California and served on the Pacific frontier in garrison duty and campaigns until 1860. While there Keyes served in the Pacific Northwest from the winter of 1855 in the Puget Sound War. Keyes's artillery Company M was sent to Fort Steilacoom. While there, in January 1856, he made two attempts to capture Chief Leschi but without success. March 4, 1856, he and 100 Regulars fought a skirmish at the White River and Muckleshoot Prairie. During the Spokane – Coeur d'Alene – Paloos War Captain Keyes was sent ahead with a detachment of dragoons to establish Fort Taylor and a ferry crossing the Snake River for Colonel George Wright's army. In the following campaign he commanded four companies of rifle armed artillerymen against the allied tribes at the Battle of Four Lakes. Shortly after this battle, Keyes received his commission of major on October 12, 1858. General Scott appointed Keyes his military secretary on January 1, 1860, a position Keyes filled until April 1861.
At the outbreak of the Civil War, Keyes was promoted to colonel of the 11th U.S. Infantry on May 14, 1861. He then served briefly on the staff of New York Governor Edwin D. Morgan until June 25, 1861, overseeing that state's raising of militia.
At the outbreak of the Civil War, Keyes was promoted to colonel of the 11th U.S. Infantry on May 14, 1861. He then served briefly on the staff of New York Governor Edwin D. Morgan until June 25, 1861, overseeing that state's raising of militia.
At the First Battle of Bull Run, Keyes commanded the 1st Brigade, 1st Division (Tyler), and then led Keyes's Brigade, before assuming command of a division from November 9, 1861, to March 13, 1862. In August 1861 he was promoted to the rank of brigadier general of volunteers with date of rank of May 17, 1861, the third-ranking brigadier general in the Army. He was then given command of IV Corps, leading it from its inception on March 3, 1862, until its discontinuation on August 1, 1863. When Maj. Gen. George B. McClellan's Peninsula Campaign against Richmond was organized in the spring of 1862, Keyes led in unexceptionable fashion.
Keyes saw action at Lee's Mill, Yorktown, Bottom's Bridge, Savage's Station, Seven Pines (Fair Oaks), Charles City Cross Roads, Malvern Hill, and Harrison's Landing. For gallantry at Fair Oaks, Keyes received the brevet of brigadier general in the regular army. After the Army of the Potomac left the Peninsula, the IV Corps remained behind as a part of Maj. Gen. John Adams Dix's Department of Virginia. On March 12, 1863, President Abraham Lincoln nominated Keyes for promotion to the grade of major general, U.S. Volunteers, to rank from May 5, 1862 and the U.S. Senate confirmed the award on March 13, 1862. In addition to the IV Corps, he commanded the Yorktown District, VII Corps, and the division at Suffolk. Among Keyes's other actions were the raid to White House, Virginia, on January 7, 1863, and the expedition to West Point, Virginia, on May 7, 1863.
During the Gettysburg Campaign in 1863, Keyes fell afoul of General John Adams Dix's strategic plan to demonstrate heavily against Richmond in order to divert Confederate reinforcements from General Robert E. Lee's army in Pennsylvania. Keyes retreated from a position near what is now Talleysville, Virginia, in the face of what Dix deemed to be inferior forces, so Dix had Keyes removed from command.
Although Keyes asked for an investigation of the charges that led to his removal, the request was never granted. He then served on various boards and commissions, including the board for retiring disabled officers from July 15, 1863, until his resignation and retirement from the army on May 6, 1864.
Following his war service, Keyes moved to San Francisco, where he soon became financially successful and prominent. He converted to Catholicism in San Francisco in 1866. He was president of a Mexican gold mining company in 1867–1869, and vice president of the California vine-culture society from 1868 to 1872. He also was engaged in the savings and loan business.
General Keyes became a member of the California Commandery of the Military Order of the Loyal Legion of the United States - a military society of Union officers and their descendants.
Keyes was the author of The Rear Guard at Malvern Hill as part of The Century Company's Battles and Leaders of the Civil War series, as well as Fifty Years' Observation of Men and Events (New York, 1884). This was later reprinted as Fighting Indians in Washington Territory (Fairfax, Washington, 1988). His work From West Point to California was published posthumously in 1950.
While on a trip to Europe with his wife, Keyes died in Nice, France, at age 85. He is buried in West Point Cemetery.
Captain Asa Howe Cory (May 31, 1814 – June 12, 1892) (Harpole/Northampton Corys)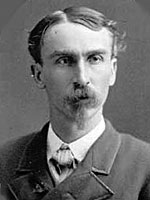 Asa Howe Cory, founder of Coryville, newspaper editor and publisher, was a captain of Company H in the 58th Pennsylvania Volunteer Infantry Regiment in the Union Army during the American Civil War.
Asa Howe Cory, son of Thomas Robbins Cory and Leytta Howe, was born in Sullivan, Tioga County, Pennsylvania, May 31, 1814 Sullivan, PA. He died June 12, 1892 in Coryville, Pennsylvania. He attended the public schools.
His father died when he was a boy. He began his business career in Wellsboro, Tioga county, where he published the Phoenix for a period of two years. He came to Smethport, and purchased the McKean County Journal, in September,1837, and changed its name to the Beacon, and published that journal in this place for about three years when he sold the office to J. B. Oviatt. Although Mr. Cory had retired from active journalism he was identified with the McKean county press for many years.
In 1838 Mr. Cory married Lucy, daughter of Hon. John Holmes. The children of this union were Asa Orson Cory, Nancy Cory, and Ella Camilla Cory
Asa was elected as Road Commissioner in Smethport, Pennsylvania in 1848.
Like Thomas Kane, in 1861 Asa Cory organized a regiment for the Civil War, Co. H, Fifty-eighth Regiment Pennsylvania Volunteers and became its captain. He served with the Union Army from October 1, 1861 until he was forced by severe frostbite to resign on August 21, 1862. He was a member of Eldred Post, No. 158, G.A.R.
Mr. Cory was a member of the United Brethren Church, and it was largely through his efforts that the church at Coryville was built. He was a genial and companionable gentleman and had the respect and good will of all who knew him.
He was postmaster at Coryville for 20 years, and performed the duty pertaining to that office in a most acceptable manner.
He finally settled on the farm at Coryville where he continued to reside until the day of his death.
Dr. Benjamin Cory, M.D. (November 17, 1822 - January 16, 1896) (John 1 Database)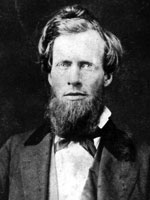 Dr. Benjamin Cory was a native of Ohio, and was the first physician in San Jose.
Dr. Cory was born in Oxford, OH, November 17, 1822. He attended the common schools of Oxford up to the age of fifteen years. He then entered the Miami University, graduating there in the classical course at the age of twenty yeas, receiving, in 1842, the degree of Master of Arts. he commenced the study of medicine under his father, Dr. James M. Cory, of Oxford, OH, attending later the Medical College of OH, at Cincinnati, where he graduated in the spring of 1845. He practiced medicine for two years with his father, and then emigrated west to the Pacific Coast.
In 1847 he crossed the plains with the regulation ox team, and arrived in Portland, OR, in September, when the nucleus of that city consisted of a half-dozen houses. Not fancying the outlook, he took passage on the brig Henry for San Francisco, where he arrived in November, 1847. He there found that two physicians, Drs. Townsend and Fourgeaud, had already established themselves, and felt that the field was pretty fully occupied. Learning of the Pueblo de San Jose de Guadeloupe, he took passage on a small sail-boat which plied between San Francisco and Alviso, a trip at that time of twenty-four hours. There being no physician at this town, and in fact no physician having located here up to that time, settled down and engaged in the practice of medicine. He became one of the first "Horse-and-Buggy" physicians, as he often rode long distances to see patients.
In the years 1848-49 Dr. Cory made two trips to the mines, remaining a few months each time. He was elected a member of the first State Legislature, which convened at San Jose, and which organized the machinery of the State government. The district from which he was elected extended from Monterey to Martinez. In 1850 he was elected a member of the Common council, holding that position from 1851 to 1855. He was elected a member of the Board of Education, which place he held for four years. In 1872 he was appointed by Governor Booth, Trustee of the State Normal School, which place he held for ten years.
He was involved in all forms of local politics. There is reason to believe that his office WAS the first capitol. Ben's office was offered as a place for senators, assemblymen and other public officials to gather before the Statehouse was completed and it was said that ―more good government came out of Doctor Cory's office than out of both houses of the State Legislature and the City Hall put together.
He was married in 1853 to Miss Sarah A. Braly, a native of MO, who crossed the plains in 1847 with her parents, Rev. John E. and Susanna (Hyde) Braly. Dr. and Mrs. Cory had eight children.
He was always a consistent Republican, having voted and worked for the election of Fremont in 1856. In 1875 he, along with his brother Jack, founded Santa Clara County Infirmary which later became the Santa Clara Valley Medical Center.
Charles Barney Cory (January 31, 1857 – July 31, 1921) (Bristol Corys - William Database)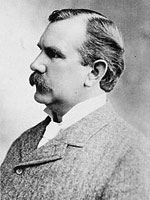 As an American ornithologist and golfer, he was a Honorary Curator of the Boston Society of Natural History and from 1895 was non resident Curator of Ontology at the field Museum of Natural History in Chicago, he was head of his department at his death in 1921. He established one of the first bird sanctuaries in the United states at Hyannis, Massachusetts.
Charles Barney Cory was born in Boston. His father had made a fortune from a large import business, ensuring that his son never had to work. At the age of sixteen he developed an interest in ornithology and began a skin collection. Due to his ability to travel anywhere he wished this soon became the best collection of birds of the Caribbean and the Gulf of Mexico in existence.
Cory briefly attended Harvard and the Boston University School of Law but soon left to continue his travelling. In 1883 he was one of the forty-eight ornithologists invited to become Founders of the American Ornithologists' Union. When Cory's collection of 19,000 bird specimens became too large to keep in his house he donated them to The Field Museum in Chicago, and he was given the position of Curator of Ornithology. Cory's collection of 600 ornithological volumes were purchased by Edward E. Ayer in 1894, and in turn donated to the museum. Cory lost his entire fortune in 1906, and took a salaried position at the museum as Curator of Zoology, remaining there for the rest of his life.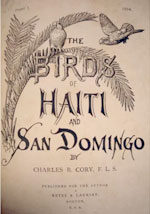 He wrote many books, including The Birds of Haiti and San Domingo (1885), The Birds of the West Indies (1889) and The Birds of Illinois and Wisconsin (1909). His last major work was the four-part Catalogue of the Birds of the Americas, which was completed after his death by Carl Edward Hellmayr.
Charles Barney Cory was the first person to describe Cory's Shearwater as a species. It had previously been described by Giovanni Antonio Scopoli in 1769, but he had believed it to be a race of another shearwater.
Cory participated in the 1904 Summer Olympics as a golfer. He competed in the individual event but did not finish.
William Ellis Cory (4 May 1866-11 May 1934) (John 1 Database)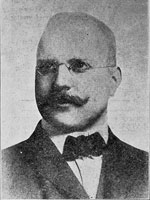 William Ellis Cory was born 4 May 1866 in Braddock, Allegheny Co., PA (near Pittsburgh) and began work in the steel mills at the age of 16. A brilliant metallurgist, he became President of the Carnegie Steel Company from 1901 to 1903 and then became President of the United States Steel Company from 1903 to 1911.
He married early in life, 1 Dec 1883 in Pittsburgh, Allegheny Co., PA, Laura B. Cook, the daughter of a steelworker, and they had a son, Alan Lyle Corey, born 6 Aug 1889 in Braddock, Allegheny Co., PA. Alan died 21 Feb 1970 in New York.
His career closely followed that of Charles Michael Schwab. In 1897 he succeeded Mr. Schwab as superintendent of Homestead Steel Works. In 1901 when Mr. Schwab left the presidency of Carnegie Steel Co. to become U. S. Steel's first president, Mr. Corey followed him as head of Carnegie. He succeeded Charles M. Schwab in 1903 as President of the U. S. Steel Corporation at $100,000 a year, then a record salary for a corporation executive in the U. S. He held the position until 1911. In 1915 he formed and headed Midvale Steel & Ordnance Co. as a rival to Mr. Schwab's Bethlehem Steel Corp.
The first class passengers on the ill fated Titanic included William Ellis Corey, ex-President of the United States Steel Corporation, and a close friend and ally of J. P. Morgan, whose IMM combine ultimately owned both the Olympic and Titanic. Corey's life was eerily akin to that of John Jacob Astor, then embarking on the sister ship.
Two years later, 1905, he abandoned his wife Laura of 23 years after seeing Miss Maybell Gilman, 23, acting in The Mocking Bird. In 1905 Andrew Carnegie gave a small dinner party at which he attempted to have the Coreys reconcile but he was unsuccessful. Soon afterwards Mrs. Charles M. Schwab, expressing the view of all of social Pittsburgh, was reported to have said to Corey, "If you divorce Mrs. Corey and marry that actress my doors will be closed to you forever." He settled $1,000,000 on his first wife, "consented" to her divorcing him the following year on 6 July 1906 in Reno. One of his sisters testified at the hearing that he was unfit to be given custody of his sixteen year-old son, while another sister was in Paris helping Mabell prepare for her wedding (she and Mabell were both voice students of famous opera star Jean de Reszke).
He moved to New York from Pittsburgh, as subsequently with Astor. Corey was finally able to overcome the objections of his parents and sister after he gave his mother $250,000 in U.S. Steel stock as well as a farm outside Philadelphia where one of his sisters was also to live. Although there were persistent rumors that Corey would be forced to give up the presidency of U. S. Steel because of negative publicity, it was finally determined that he was too valuable to the company. Mabelle Gilman arrived in New York City from Paris on the Kaiser Wilhelm der Grosse on 1 May 1914 and joined her mother and two sisters, Pearl and Eunice. Mabelle was married to William E. Corey on 14 May 1907 at the Hotel Gotham by a Congregationalist minister after they could not find a Catholic or Episcopal priest to perform the ceremony (he later returned the fee and asked his fellow ministers for forgiveness for having wed the couple).
They first leased a mansion at 803 Fifth Avenue then purchased 991 Fifth Avenue, at the corner of 80th Street (now the home of the American Irish Historical Society) – close to the Astor pile. Corey gave his wife as a wedding present a beautiful chateau outside Paris, the Villa de Vilgenis, which had once belonged to Louis de Bourbon, the Prince de Condé, and was the site of the death of the youngest brother of Napoleon I, Jerome Bonaparte (whose first wife was a beautiful American heiress, Betsey Patterson of Baltimore). There were rumors that Mabelle was seen there riding naked on horseback as the sun was rising. The home was to remain in the Corey family until 1950 when it was expropriated by Air France. Corey was also reported to have given his new wife one million dollars as well as valuable jewels as a wedding present. He resigned from the Presidency of the U. S. Steel Corporation shortly afterwards, allegedly at the request of the Directors.
Armed with money and a high profile, Mabelle entertained lavishly. The English writer and actor Beverley Nichols noted in his diary, "Lunch at Claridge's with Mabelle Corey, a rattling American who had collected the King of Greece, the Duke of Marlborough, Lord Elmleigh, Lady Birkenhead, Lady Alexander Haig and me."
He retired in 1923 when Bethlehem bought Midvale. The same year Mabelle divorced her husband in Paris in November and retained her French chateau where she entertained wounded U. S. soldiers during the War. She charged desertion.
William Ellis Corey died 11 May 1934 in New York, NY of pneumonia.
Harvey Cory (6 Mar 1882 - 16 Oct 1949) (John 1 Database)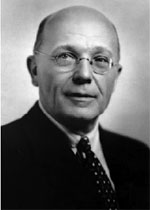 Harvey Cory was born on 6 Mar 1882 in Autaugaville, Autauga Co, AL. President of the "Cory Glass Coffee Brewer Corp.", manufactures of the famous Cory Class Coffee Brewer.
Harvey Cory and Margaret Maud Markell were married on 27 Nov 1906 in Pittsburgh, Allegheny Co, PA. Maude Markell was born 1 Sep 1886 in Pennsylvania.
Harvey Cory and Margaret Maud Markell had one child, Elizabeth Emma Cory, 3 Feb 1908 in Pittsburgh, Allegheny Co, PA.
He moved to Chicago where he invented and manufactured the "Cory Glass Coffee Brewer". Harvey Cory founded "Harvey Cory's Glass Coffee Brewer Corp.," later named Cory Corp., in 1933. The Company's subsequent coffee percolators led the market for half a century.
The first patent filed by Harvey Cory for a vacuum coffee brewer was in 1933, and was quickly followed by a series of new designs, many of which focused on peripheral design elements of the brewers - handles, covers, filters, and so forth. His 1934 patent illustrates both the "Fast-Flo" filter which shipped with many early Cory brewers, as well as an alternate design which showed up later on vacuum pots sold by General Electric. It is interesting to note that what is arguably the most significant innovation ascribed to Cory, namely the glass filter rod, was not invented by Harvey Cory himself, but by Raymond Kell of the MacBeth Evans Glass Company in 1932. The familiar Cory design was patented in 1939, while the similar Silex "Lox-In" glass filter was not submitted for patent until 1946.
In 1942, Harvey Cory submitted a patent for his "rubberless" vacuum pot. This design dispenses with the customary rubber gasket used to form an airtight seal between the upper and lower vessels, and substitutes a seal formed by two mechanically ground glass surfaces. The seal is rendered fluid tight by the combined weight of the upper bowl, filter and ground coffee.
In 1942, when the founder Harvey Cory retired, James Alsdorf and a group of friends scraped up enough money to buy control of the company.
He died 16 Oct 1949 in Prescott, Yavapai, Arizona and is buried there in Mountain View Cemetery. Maude died in Jun 1975 and is also buried in Mountain View Cemetery. Their daughter married Earnest August Born (1904-1980.) She died 17 Oct 1994 in Prescott and she and Earnest are both buried in Mountain View Cemetery.
Wendell Reid Corey (March 20, 1914 – November 8, 1968) (John 1 Database)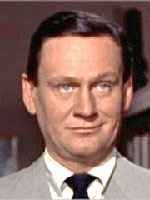 Wendell Reid Corey was an American actor and politician. He was born in Dracut, Massachusetts, the son of Milton Rothwell Corey (October 24, 1879 – October 23, 1951) and Julia Etta McKenney (April 11, 1882 – June 16, 1947). His father was a Congregationalist clergyman. Wendell was educated in Springfield.
Corey began his acting career on the stage, doing a number of productions in summer stock. While appearing with a Works Progress Administration theatre company in the late 1930s, he met his future wife, Alice Wiley. They had one son and three daughters, Jonathan, Jennifer, Bonnie Alice, and Robin.
His Broadway debut was in Comes the Revelation (1942). After appearing in a number of supporting roles, he scored his first hit as a cynical newspaperman in Elmer Rice's comedy Dream Girl (1945). While appearing in the play, Corey was seen by producer Hal Wallis, who persuaded him to sign a contract with Paramount and pursue a motion picture career in Hollywood.
His movie debut was playing a gangster in Desert Fury (1947). Corey appeared in Sorry, Wrong Number (1948) and a year later in Holiday Affair. He starred in The File on Thelma Jordon (1950), and in Harriet Craig, which was released the same year. His other movies include Hitchcock's Rear Window (1954), The Big Knife (1955), The Rainmaker (1956) and Loving You (1957).
He starred with Casey Walters in the weekly television programs Harbor Command (1957-1958). Thereafter, he co-starred with in The Nanette Fabray Show (1961), and in the lead role in the medical drama, The Eleventh Hour (1962-1963).
Corey also made guest star appearances on a number of programs, including Target: The Corruptors!, Channing, Alfred Hitchcock Presents, The Untouchables, Burke's Law, Perry Mason, The Road West, and The Wild Wild West.
Corey served as president of the Academy of Motion Picture Arts and Sciences from 1961 to 1963 and was a member of the board of directors of the Screen Actors Guild. A Republican campaigner in national politics since 1956, Corey was elected to the Santa Monica City Council in April 1965. The conservative politician ran for the California seat in the United States Congress in 1966, but lost the primary election. He was still a councilman at the time of his death.
He died at age fifty-four at the Motion Picture & Television Hospital in Woodland Hills, California, of cirrhosis of the liver as a result of alcoholism. He is interred in Washington Cemetery in Washington, Massachusetts.
Wendell Corey has a star on the Hollywood Walk of Fame for his work in TV at 6328 Hollywood Boulevard in Hollywood.
Dr. Arthur Thomas Cory, Ph.D. born August 4, 1919 in Pasadena, Maryland. During the Great Depression Art and his siblings and mother Mabel Frances (Davis) farmed their property while his father, Daniel P. Corey, worked nearby in Baltimore, Maryland as a machinist. After graduation from high school and having a year of college at the University of Maryland he was one of the first five persons drafted in his region and spent much of WWII being educated at Pennsylvania State University in Civil Engineering by the military prior to serving overseas in Europe and the far east near the end of the war. After returning from service he completed a bachelor's degree in Soil Science at the University of Maryland, then continued for a Master's Degree in Irrigation Engineering at Colorado A&M, followed by a PhD at Rutgers University in New Jersey in Soil Physics and Physical Chemistry specializing in ground water.
He and his late wife Vera K. Corey (Karel) and two sons Philip and Paul moved back to Fort Collins, Colorado, in 1955 after working at the Gulf Oil Corp. near Pittsburgh, PA for a few years as a research physicist. He was first employed by the experiment station at what was then Colorado A&M as a ground water scientist eventually becoming a full professor at Colorado State University in the Department of Agricultural Engineering and later Emeritus Professor.
Before entering the academic profession, he held the position of research physicist in the petroleum industry for the Gulf Research and Development Company. At that time he was engaged in research dealing with the flow of immiscible fluids in porous rocks, and developed semi-empirical equations for the permeability of oil, gas and brine as functions of fluid content. His equations gained wide acceptance had have since been used extensively for making calculations pertaining to petroleum reservoir behavior.
After become an educator, Dr. Corey continued his research on flow of immiscible fluids, with mainly different applications being considered, e.g., groundwater hydrology and soil physics. He has had the help of many outstanding graduate students who are now leader in education and research on subjects related to the mechanics of immiscible fluids. Research conducted personally by Dr. Corey and his graduate students have contributed much too the material presented his his publications. Studies conducted by Dr. Corey and his students have greatly extended the theories developed by him before he became a professor. Equations developed since that time are widely used by hydrologists concerned with processes taking place within the vadose zone, as well as by petroleum engineers concerned with reservoir behavior. The Brooks-Corey relationships are particularly well known, and are used throughout the world in numerical models involving immiscible fluid flow.
Art always enjoyed traveling. In 1959,while at CSU, Art was persuaded by the late Dr. Maurice Albertson to take his family to Bangkok, Thailand to teach for the first two years (the first graduating class) of the SEATO Graduate School of Engineering now known as the Asian Institute of Technology. Dr. Albertson, no doubt inspired by his success at organizing a graduate school in a foreign country, went on to assist in the creation of the Peace Corps and numerous other activities. Art convinced some of his Thai students to return to CSU for PhD degrees. Perhaps his most famous former Thai student is Dr. Subin Pinkayan who, among his many accomplishments, served as Minister of Foreign Affairs for the Royal Thai Government (roughly equivalent to the US Secretary of State) and founded SEATEC, a large international engineering consulting firm based in Thailand. Subin had lived with the Corey family during his first year at CSU and has remained close to the Corey family since then.
In 1965 Art worked on a water project in Lahore, Pakistan, from which he was evacuated when a war between India and Pakistan broke out after he had only worked there for a few months. Near his retirement he was a visiting professor at the Swiss Federal Institute of Technology while on sabbatical there.
After retiring from his position as Professor at Colorado State University in 1975, Art taught and also worked as a water scientist in Ireland, Turkey, and Sri Lanka, as well as various state universities in the United States. Dr. Corey continued to be active as a graduate student advisor, consultant and as a visiting professor in is field of interest. He taught courses for graduate students in four different universities in the USA, and in four other universities in countries outside the USA. In more recent years, most of his students were concerned with the analysis and remediation of polluted groundwater aquifers. Consequently, the latter application of the mechanics of immiscible fluids has received more specific treatment in later publications.
The Dr. Arthur T. Corey Distinguished Lecture Series at Colorado State University is inspired by Professor Emeritus Arthur T. Corey, whose research focused on flow of immiscible fluids, with applications in groundwater hydrology and soil physics.
Art was the author of Mechanics of Immiscible Fluids in Porous Media, Water Resources Publication, 1994, Hydraulic Properties of Porous Media, R.H. Books, 1964, Properties of Unsaturated Porous Media, R.H. Books, 1966, Mechanics of heterogeneous fluids in porous media, Water Resources Publications, 1977, The Coreys of Bodkin Creek, Apr 1990, Denver Public Library, and many published papers.
In 1999, Art took on two duties for the Cory Family Society. The first being the interim President until 2001 when Fred Corey, one of Art's students, took over as president. The second project was coordinating DNA research with the help of our late genealogist, Charlotte Muller to determine the genetic relationships between the three main Cory/Corey family lines in North America by analyzing Y-chromosome markers. Specifically, we wished to learn whether or not the progenitors: William of Portsmouth, John of Long Island, and Thomas of Chelmsford had a common ancestor. Each had arrived in America during the period 1635-1645. The Society had previously found circumstantial evidence indicating that John was likely the father of William, but we had no documentary evidence in regard to the genetic connection of either John or William with Thomas. At that time, Art, due to circumstantial evidence, thought that he was a member of the William line (Bristol Corys.) As a result of the tests, it was determined that he was from the Thomas of Chelmsford line (Harpole Corys) and that his DNA sample had identical chromosome markers to Colin Cory, a resident of Harpole, England. He continued in the role of DNA Project Manager until 2006. To date, we have only been able to trace Art's lineage back 5 generations to Martin C Corey, but not to either Thomas or another Harpole Cory. Also, in 2006, he, along with his nephew Steven Zwobot and wife Kathy, planned and coordinated the Societies Annual Meeting in Washington DC.
Later in life, he lived in Ft. Collins and Las Cruces, New Mexico and worked into his late 90's with his son Dr. Philip D. Corey, now retired from Boeing, on various technical papers in his field of ground water dynamics and on his memoirs. He also continued his interest in genealogy. He has been a powerful influence on all who have known him including those who have studied and worked with him and has been a leader in his field of research. His final goal to become a centenarian was unfulfilled; he missed by only 4 short months. Dr. Arthur Thomas Corey, died from a fall on 4 Dec 2018 at the age of 99 in Fort Collins, Larimer, Colorado.
George C. Cory, Jr. ( 3 August 1920 - 11 April 1978 ) (John 1 Database)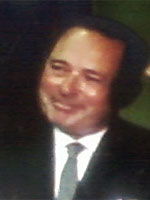 George C. Cory, Jr. was born in Syracuse, N.Y. and studied at the University of California. He studied with Ernest Bloch at Univ. of California. During his army service in 1943-45, he was chapel organist at the Presidio of Monterey. He was music director, Gilbert and Sullivan Repertory Company, San Francisco; assistant to Gian-Carlo Menotti, 1946-50; arranger, conductor, pianist in San Francisco and throughout the U.S.
WORKS: Theatre: Lysistrata , musical version of Aristophane's play; Songs: The drowned wife, text by Robert Horan; Music I heard with you , text by Conrad Aiken; And this shall be for music , text by R. L. Stevenson; Another America , text Douglass Cross; Keyboard: sonatina for piano; Pastorale and toccata-finale for organ; many popular songs including: I left my heart in San Francisco (Grammy award, 1963), and Carry me back to old Manhattan
The song I Left My Heart in San Francisco was written in 1954 by then-unknown songwriters, George C. Cory, Jr. and Douglass Cross. Cory wrote the music and Cross wrote the lyrics. The song is about two amateur writers nostalgic for San Francisco after moving to New York. Although the song was originally written for Claramae Turner, who often used it as an encore, she never got around to recording it.
It is a little-known fact of show business history, however, that prior to Tony Bennett hearing it, the song was pitched to Tennessee Ernie Ford, who Claramae Turner suggested Cross take it to. Ford turned the song down, but in an ironic turn of events, later purchased a ranch in Lake County, California, owned by Cross's family.
They pitched the song to Bennett's pianist and musical director, Ralph Sharon, Bennett's longtime accompanist and friend of the composers, who promptly put it in a drawer and forgot about it. Some time later, as he was packing for a tour with Mr. Bennett that would take them to San Francisco, he came across the song and put it in his suitcase, thinking that the locals in San Francisco might enjoy hearing it. After a performance at a nightclub in Hot Springs, Arkansas (a concert where underage saxophone player and future President Bill Clinton famously stood outside the club and watched the entire performance through the window), Bennett and Sharon found a piano in the bar at their hotel and started to work on the song. The first fan of the song was the bartender, who said "If you guys record that song, I'll buy the first copy."
He was looking for new material for Bennett to sing at the Fairmont Hotel. "We dug down to the bottom of our trunk and gave it to him," said Cross. Bennett performed it for the first time in 1962 at the Fairmont Hotel on Nob Hill in San Francisco, and it quickly became his signature song.
According to Cross, the two songwriters originally titled the song "When I Return to San Francisco." That title didn't grab them, so they changed it to "When I Come Home." They didn't like that one, either. But the pair's third attempt was a charm, because that's when they gave the song its now-classic title. "And I always thought that one was too corny," added Cross.
In a rare interview, Cory said: 'It was pure nostalgia. We missed the warmth and openness of the people and the beauty. We never really took to New York.' Cory shared in the 1963 "Grammy" award for his music in the song "I Left My Heart in San Francisco."
The Songwriters Hall of Fame (SHOF) honored Cory and Cross with the Towering Song Award for writing the song and also gave Bennett the Towering Performance Award for his timeless vocal rendition.
George Cory, who wrote the music, scratched a living playing piano in bars. Douglass Cross, the lyricist, worked in radio. Besides being songwriting partners, they were also lovers. The two men returned to California from New York and had a home built in Lake County. Cory moved after his partner's death in 1975. He didn't linger on in the beautiful wine country two hours outside the city, but bought a house on Nob Hill.
A friend and business associate found Cory' body in his San Francisco bachelor apartment. The coroner's office said Cory had been despondent over failing health, and apparently took an overdose of medication. He left a note, but its contents were not revealed. Cory was 58.
They died within three years of each other while still only in their 50s.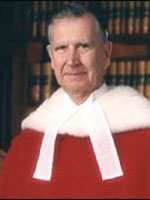 Peter deCarteret Cory was born October 24, 1925 in Windsor, Ontario. He was a puisne judge of the Supreme Court of Canada from 1989 to 1999.
Born in Windsor, Ontario, the son of Andrew and Mildred (Beresford Howe) Cory. He served overseas with the Royal Canadian Air Force during 1943-46 as a pilot with 6 Bomber Group. He was educated at the University of Western Ontario (Assumption) receiving his BA in 1947 and at Osgoode Hall Law School receiving his law degree in 1950. He was called to the Ontario Bar in 1950. He was appointed to the Queen's Counsel in 1963. He practiced law with Holden, Murdoch and was elected a Bencher of the Law Society of Upper Canada in 1971.
He is past chairman of the Ontario Civil Liberties Section of the Canadian Bar Association, past president of the County of York Law Association, past National Director of the Canadian Bar Association, and past president of the Advocates' Society.
He was appointed to the Supreme Court of Ontario in 1974, the Court of Appeal for Ontario in 1981, and was appointed to the Supreme Court of Canada on February 1, 1989. He is an Honorary Colonel of the 426 (T) Training Squadron. He retired from the Supreme Court on June 1, 1999. He served as the 11th Chancellor of York University from 2004 to 2008.
In 2002 he was made a Companion of the Order of Canada.
Following his retirement, Cory was appointed to conduct an independent inquiry into six particular deaths during 'the Troubles' in Northern Ireland. The Cory Collusion Inquiry was established to investigate allegations of collusion between security forces and paramilitaries in those cases.
He was pre-deceased by first wife Edith Nash (with whom he had three children: Christopher, Andrew, and Robert) and in 2007 wed Mary Dayton.
Eleanor Cory (8 September 1943), an American Composer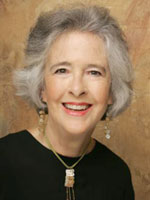 Eleanor Cory was born Septermber 8, 1943 in Englewood, New Jersey, An American Composer. She studied at Sarah Lawrence College, Harvard University, New England Conservatory and Columbia University. Her composition teachers include Charles Wuorinen, Chou Wen-chung, Bulent Arel and Meyer Kupferman. Cory teaches at Kingsborough Community College, CUNY, and has taught at Yale University, Baruch College, Manhattan School of Music, Sarah Lawrence College, Brooklyn College and The New School for Social Research. She resides in New York City with her husband, composer Ed Harsh and their son Andrew.
Eleanor Cory's work has been recognized by awards from the National Endowment for the Arts, New York State Council on the Arts, New York Foundation for the Arts, Mary Flagler Cary Charitable Trust, Fromm Foundation of Harvard University, Aaron Copland Fund, Alice M. Ditson Fund of Columbia University, Morse Grant of Yale University, MacDowell Colony, and PSC-CUNY Research Foundation. She has received an American Composers Alliance Recording Award, the Miriam Gideon Award from the International Association of Women in Music, as well as prizes from the Hollybush, Kucyna, and Music of Changes International Competitions, and the Davenport, and New Jersey Guild of Composers Competitions.
Her music is recorded on three solo CDs: Chasing Time (Albany CD 1031, 2008) Of Mere Being (CRI, 2002) and Images, (Soundspells, 1996) as well as on the CRI American Masters Series: Eleanor Cory and Ellen Taaffe Zwilich (CRI CD 621); ACA Recording Award Winners (CRI SD 459); and The Music of Eeanor Cory and Edward Cohen (CRI SD 542).
William Wallace Cory (16 June 1865–21 September 1943), Canadian politician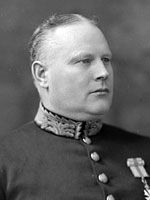 Born at Strathroy, Ontario on 16 June 1865, son of Thomas Cory and Margaret Garrett. His father was born in England and his mother in Scotland. He came to Manitoba with his family in 1871 where they farmed near Gladstone. He studied law in Winnipeg and joined the staff of the Manitoba Attorney-General in 1889. Twelve years later, he joined the federal civil service, being Deputy Minister of the Interior from 1905 to 1930.
He was Commissioner of the Northwest Territories from June 27, 1919 to February 17, 1931. Only the second Commissioner of the Northwest Territories to take the post, Cory inherited a region that had barely been governed during the time of his predecessor.
Within months the new Commissioner had enacted a new ordinance (or law) regarding entry into the Northwest Territories, restricting access only to those pre-approved by the Royal Canadian Mounted Police at various outposts in Alberta or the Yukon. The ordinance was cancelled a year later having been deemed ultra vires however during his office Commissioner Cory pursued further administration of the Territories, overseeing the appointment of councillors for the first time and establishing operations to facilitate the expansion of oil and gas interests in the region including the opening of the Territories' administration offices at Fort Smith in 1921.
He died at Montreal, Quebec on 21 September 1943 and was buried at Ottawa. He is commemorated by Mount Cory in Banff National Park.
James Warren "Jim" Corey (October 19, 1883 – January 10, 1956) was an American actor. (John of Roxbury Database)
James Warren Corey, Sr. was born in Long Pine, Nebraska in 1883, passed away January 10, 1956 in the Los Angeles area, and interred at Valhalla Cemetery.
He left his widow, Patrice, a daughter, Mary J. Snider, and a son, James W. Corey, Jr. Jim Corey came to movieland in 1917 and appeared in countless two-reelers and features, especially with Hoot Gibson in the silent era. He was more remembered for his face than his name. He appeared in well over 100 silent and sound films. Towards the end of his acting career he played bit parts and was not listed in the credits. The last film in which he received billing was 1943's Haunted Ranch with John King, David Sharpe and Max Terhune.
His grandaughter, Jane Helms, says: "Grandfather had a horse named Bill, and Bill pulled a wagon all the way from Aberdeen, Washington, down to southern California. Possibly Burbank, but I don't know for certain. I like to think that Bill might have been in a movie or two, but, who knows?"
He appeared in over 315 films between 1914 to 1948. He died at 61 in Burbank, California. He is buried at Pierce Brothers Valhalla Memorial Park, North Hollywood, California.
The internet has James Warren Corey and the following Jim Corey mixed up in several places.
Jim Corey (March 22, 1889 – March 26, 1950) was an American actor. (Harpole Database)
Born Arthur Harrison Corey in Buffalo, New York, March 22, 1889 to Nathan Corey and Margaret Ford. He was a frequent henchman and also did stunt work. His film career began in the silents and continued through the late 1940s.
Corey is relatively easy to spot - he's thin and has a well lined face ... he wore a big, tall hat ... and packed his six-shooter on the left side.
He appeared in at least 216 westerns and 22 serials. He is known for his work on The Champion Liar (1920), The Man with the Punch (1920) and The Danger Man (1921). Performing primarily in western features, his credits include "The Master Key" (1914), "The Bronco Kid" (1920), "The Saddle King" (1921), "The Oregon Trial" (1923), "The Bar C Mystery" (1926), "The Shepherd of the Hills" (1941) and "In Old California" (1942).
He married Sylvia Frey (1898, Ohio) in 1917. The 1930 census has 41 year old Jim Corey, 32 year old wife Sylvia, 10 year old son Clarence H., 5 year old daughter Jean M. and 4 year old daughter Alice J. are residing in the Los Angeles area.
Corey passed away at the Los Angeles County General Hospital on March 26, 1950, the day after surgery for an abdominal aneurysm. He is buried at Pierce Brothers Valhalla Memorial Park, North Hollywood, California. More information may be found at http://www.b-westerns.com/henchie11.htm.
Robert Brainard Corey (August 19, 1897 – April 23, 1971) was an American biochemist. (John 1 Database)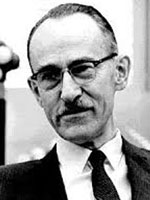 He is mostly known for his role in discovery of the α-helix and the β-sheet with Linus Pauling. Also working with Pauling was Herman Branson. Their discoveries were remarkably correct, with even the bond lengths being accurate until about 40 years later. The α-helix and β-sheet are two structures that are now known to form the backbones of many proteins./p>
Sometime in his youth he was given the nickname "Jim"; his wife and intimate friends continued to call him Jim throughout his life. Professionally he was Bob.
Bob Corey was born in Springfield, Massachusetts, the first of two sons of Fred Brainard Corey and Caroline (Heberd) Corey. Both of Bob's parents could trace their genealogies back to the mid-seventeenth century in America and much further back in England. They both graduated from Cornell University, his father in 1892 and his mother in 1893. Fred Corey was a mechanical and electrical engineer, employed for many years by General Electric in Schenectady as a developer of railway equipment. Bob's early education was at the Brown School, a private elementary school in Schenectady. When his father went to work for Union Switch and Signal Company in Pittsburgh, Bob attended high school in Edgewood, Pennsylvania. From there he went to the University of Pittsburgh, where he graduated in 1919 with a bachelor's degree in chemistry. At some period during his youth he was stricken with the scourge of the time, poliomyelitis (infantile paralysis). A partially paralyzed left arm, a pronounced limp, and a frail constitution remained with him throughout his life, and probably contributed to his being somewhat more serious and less active socially than most of his contemporaries.
Corey was awarded an honorary doctor of science degree by his alma mater, the University of Pittsburgh, in 1964; he was elected to the National Academy of Sciences in 1970. For more information, visit http://www.nap.edu/read/5859/chapter/5#55.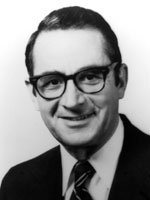 E.J. Corey (the surname was Anglicized from the Lebanese Arabic Khoury, meaning priest) was born to Christian Lebanese immigrants in Methuen, Massachusetts, 50 km (31 mi) north of Boston. His mother changed his name to "Elias" to honor his father who died eighteen months after the birth of his son. His widowed mother, brother, two sisters and an aunt and uncle all lived together in a spacious house, struggling through the depression. He attended Catholic elementary school and Lawrence Public High School.
At age 16, Corey entered MIT in 1945. At MIT, he earned both a bachelor's degree in 1948 and a Ph.D. at age 22 in 1951. Both degrees were in chemistry. Immediately thereafter, he joined the faculty of University of Illinois at Urbana–Champaign where he became a Full Professor of Chemistry in 1956 at the age of 27. He was initiated as a member of the Zeta Chapter of Alpha Chi Sigma at the University of Illinois in 1952. In 1959, he moved to Harvard University, where he is currently an emeritus professor of organic chemistry with an active Corey Group research program. He chose to work in organic chemistry because of "its intrinsic beauty and its great relevance to human health". He has been an advisor to Pfizer for more than 50 years.
He and his wife, Claire, were married in 1961. They have three children, David, John, and Susan and two granddaughters, Sara and Kate Corey. Currently, he and his wife, Claire, live in Cambridge, Massachusetts.
In 1988, he was awarded the National Medal of Science. He was awarded the American Chemical Society's greatest honor, the Priestley Medal, in 2004. For more information, visit http://www.nobelprize.org/nobel_prizes/chemistry/laureates/1990/corey-bio.html
Ronald Corey, CM (13 December 1938)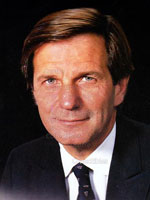 Ronald Corey is a Canadian businessman and former professional ice hockey executive with the Montreal Canadiens of the National Hockey League (NHL).
On November 12, 1982, Corey was appointed president of the Canadiens. During his term as president, the team won two Stanley Cups; in 1986 and 1993. Corey was president for the building of the Bell Centre, however during the 1990s, the team's business declined under the indirect ownership of parent company Molson Brewery by Foster's.
In 1991, he was made a Member of the Order of Canada. Corey retired in May 1999, after Molson openly discussed selling the team, he was unwilling and unable to fulfill that mandate, and Molson went on installing new team president Pierre Boivin.
As of 2012, Corey serves as director of Transamerica Life Companies, Schiff Nutrition International Inc. and The Canadian Museum for Human Rights. He is also president of Ronald Corey Groupe Conseil Ltée. Corey has also served as Chairman of the Port of Montreal. Prior to joining the Canadiens' organization, Corey was president of the Carling-O'Keefe brewery.
Philip Cyril Cory (7 March 1941 - 4 September 2020) Special Effects Professional (Harpole Database)
Philip Cyril Cory, died from a heart attack on 4 Sep 2020 at the age of 78 at his home in Eatonton, Georgia. Phil was a special effects professional with a Hollywood career that spaned more than 50 years. During his time as a special effects technician and later supervisor, he not only created and improved on the "standard" type of effects, rain, snow, wind, etc. but has been credited with creating some of the most spectacular effects seen on the screen.
In 1998 he was the recipient of the 70th Annual Academy Awards -Technical Achievement Award for the design and development of the Special Effects Spark Generator. This non-pyrotechnical device provides a controllable, reliable, variable, and economical shower of sparks for motion picture special effects, while improving safety on the set.
Philip Cory was born Saturday March 7, 1942 in Watertown, New York. Philip was the second child of Claude and Phyllis (Sayer) Cory. His brother, Earl the societies vice president and website manager, was born a year before. The family was living on the Cory Farm with Claude's parents at the time.
In the fall of 1947, Claude's doctor told him that he would give him ten years to live if he stayed in upstate New York. He recommended that the family move to Arizona. Claude's cousin, Vernon Corey, lived in Los Angeles. He told them: "Living quarters are hard to find. If you are coming west, you better bring your house with you." They saw an advertisement in the paper for a Glider house trailer. It was 27 feet long and had a living room, kitchen, and bedroom. The sale included a low mileage, 1946 four door Dodge. They arrived in Los Angeles on February 8, 1948.
At a young age Phil was interested in mechanical things. He would take things apart to see how they worked. He started on old alarm clocks. As time went by, he became interested in engines. He started with .049 model airplane engines and ran them in the garage, making a lot of noise and smoke. Over time the engines got bigger and bigger.
Phil married Katherine Louise McCuan, "Louie"(17 Jan 1944 - 25 Jul 2001) in 1962. On New Year's Day, 1964, Louise gave birth to a son, Richard James Cory (1 Jan 1964 - 20 Nov 2014) who followed his father in the Special Effects trade. Phil and Louise's marriage ended in divorce in September 1966.
His career in Hollywood consisted of working for several studios and independent producers. Early on he was involved with several popular TV shows.
While working on Bug in 1973, he met Judith Ann Stage. Judy was a hairdresser working on the same production. Judy was devoiced with three children. Phil and Judy married May 10, 1975 in Las Vegas.
Phil's film career is too long to list. IMBD starts his profile with Big Jake in 1971 and ends with The World's Fastest Indian in 2005. Some of his most well-known pictures are Glory, Funny Lady, Butch and Sundance, Tom Horn, The Hunter, The Rock, Annie, The Toy, To Live and Die in LA, The Presidio, Weekend at Bernie's, Flatliners, Misery, Die Hard with a Vengeance, and The Aviator. IMBD does not include his early Disney films and all his TV work such as 77 Sunset Strip, The F.B.I., and My Favorite Martian and many when was a prop man.
Phil and Judy made several films in the Atlanta, Georgia area and decided to retire there in 2005. They bought property near Lake Oconee. To the delight of Phil, it included a barn large enough for Phil to install his machine shop and to house the Model T he restored, a Studebaker, and his 45-foot motor home and boat.
John Corey (born estimate 1951, Oak Park, Michigan), songwriter, guitarist and keyboard player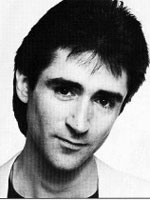 John Corey, aka John Coury. Songs written by John Corey, "Don't Hold Back", 1970, "Sailor's Delight", 1971, "Sing for Me", "We Are Waiting", 1981", "Assault & Flattery", 1997, "Heard It on the Radio, Vo. 2", 1999, "Dallas", 2002.
Sky was an American rock power trio active in the early 1970s, based out of Detroit, Michigan. It released two albums with RCA before breaking up in 1973. It's mostly known today as an early point in musician Doug Fieger's career, later the frontman of The Knack. The group started out as their members finished high school in the Detroit, Michigan area. It consisted of Doug Fieger (bass, lead vocals), John Coury (guitar, backing vocals, keyboards), and Rob Stawinski (drums, backing vocals). Doug Fieger was very determined to achieve stardom. His first big step towards that goal came when he teamed up in high school with a very talented multi-instrumentalist named John Coury. Because he was younger, Fieger was required to start playing bass while letting Coury play his Country Gentleman in order to join Coury's band. Their first professional gigs were playing Detroit-area teen clubs. Later Coury and Fieger teamed with drummer Bob Greenfield, another Oak Park native, to form Sky. Sky gained a local following after serving as an opening act for popular groups such as Jethro Tull, The Who, Joe Cocker, Bob Seger, and The Stooges. It also played with Traffic numerous times. The group put out two albums on RCA, 1970's Don't Hold Back and 1970's Sailor's Delight (both produced in England by the Rolling Stones' producer, Jimmy Miller). Their sound was country rock along the lines of The Grateful Dead's then current phase mixed with harmony and hard rock influences. Traffic also strongly influenced their style. Sky composed and performed the soundtrack music for Roger Corman's "Private Duty Nurses" in 1971, and appeared in the film as Sky, the band playing at Schlumpfelder's Bar.
John Corey played piano and organ on The Who's 2012/13 Quadrophenia & More tour. John has played keyboards and/or guitar for many artists including The Eagles, Don Henley, Rod Stewart, Stevie Nicks, Eddie Money, Jude Cole and Randy Meisner. He has also enjoyed success as a songwriter. He sang and played keyboards and guitar on The Eagles' Hell Freezes Over DVD, and toured extensively with them for seven years. Corey's first experience with The Eagles was when he contributed to Randy Meisner's self-titled solo album in 1981, as Musical Director, guitarist, and songwriter. In 1989, he was very involved with Don Henley's album, The End of the Innocence, acting not only as a musician but also as a producer, and co-wrote two of the songs with Henley, most notably, 'The Last Worthless Evening,' which made it into the Top 10 on Billboard's Hot 100. Having played guitar with Don since 1985, he began his role of Musical Director on the tour for that album. John co-wrote and recorded several songs with Henley, over the years, his favorite being, 'Annabel,' which appeared on the Inside Job album. In the early 80's, John played guitar and keyboards in Silver Condor with Earl Slick and Joe Cerisano. They made their only Billboard Hot 100 appearance with the Solid Gold Hit, 'You Could Take My Heart Away,' which was written by John.
Bryan Corey (October 21, 1973), professional baseball right-handed relief pitcher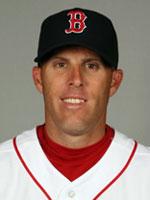 Bryan Corey was born October 21, 1973 in Thousand Oaks, California. Originally selected by the Detroit Tigers in the 12th round of the 1993 Major League Baseball Draft, he was converted from a position player to a pitcher by the Tigers in 1995. Corey would make his Major League Baseball debut with the Arizona Diamondbacks after being selected 63rd in the expansion draft.
After his short spell with the Diamondbacks in 1998, Corey became a Triple-A journeyman, playing for Triple-A affiliates of the Arizona Diamondbacks (1999), Detroit Tigers (1999), Oakland Athletics (2000), San Diego Padres (2001), Los Angeles Dodgers (2002-2003), Chicago Cubs (2004), Florida Marlins (2005), Texas Rangers (2006), and Boston Red Sox (2006-2008). In addition, he pitched in the Japan Central League with the Yomiuri Giants in 2004.
On June 19, 2006, Corey had his contract purchased by the Texas Rangers to pitch in the bullpen, but was designated for assignment by the Rangers on July 25, 2006 after posting a 1-1 record with an ERA of 2.60. On July 30, 2006, Corey was traded to the Red Sox for minor league pitcher Luis Mendoza, but he was again designated for assignment after pitching 1 inning for the Red Sox, giving up a solo home run. He returned to the Red Sox for spring training in 2007 and went 0-1 with a 1.50 ERA in 12 innings, but was not selected to be part of the 25-man roster. However was called up on September 1 when rosters expanded. On April 17, 2008, Corey declined an outright assignment to Triple-A after being designated for assignment and became a free agent. On April 22, 2008, Corey resigned with the Red Sox to a minor league contract. On April 25, 2008, the Red Sox purchased his contract from the Triple-A Pawtucket. He was once again designated for assignment on April 29. On May 11, 2008, Corey was traded to the San Diego Padres for a PTBNL or cash considerations. He became a free agent at the end of the season and signed a minor league contract with the Texas Rangers in February 2009.
Rachel Corrie (1979–2003), American ISM volunteer killed by an Israeli bulldozer in the Gaza Strip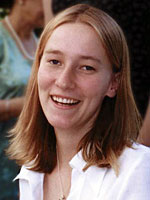 Rachel Corrie grew up in Olympia. She was the youngest of three children of Craig Corrie, an insurance executive, and Cindy Corrie. Cindy describes their family as "average Americans—politically liberal, economically conservative, middle class. Her mother, an accomplished flutist, volunteered at local schools.
In September 1997, she entered Evergreen State College in Olympia, a small liberal-arts institution known for its experimental curriculum and its left-wing orientation. In the fall of her senior year a friend returned from five months in Gaza and talked enthusiastically to Corrie about the International Solidarity Movement (ISM), a pro-Palestinian activist group founded just the year before.
Corrie proposed an independent-study program in which she would travel to Gaza, join the ISM team, and initiate a "sister city" project between Olympia and Rafah. Rafah has been a center of Palestinian resistance for the past three years. Gaza was in Egyptian hands until Israel seized it during the 1967 Six Day War. Still surprisingly fertile, abounding with small plots of olives, squash, cucumbers, and oranges, Gaza is now surrounded by electrified security fences, its population barred from Israel. One million Palestinians are effectively held hostage by 6,700 Jewish settlers and the Israel Defense Forces (IDF) -- although the sea provides a vital escape valve. Masked militants from Hamas, Islamic Jihad, and the Al-Aqsa Martyrs Brigades prowl the city's sandy alleyways at night, past gray cinder-block homes and shops whose walls are covered with "martyr" posters and brightly painted images of assault rifles and exploding Israeli tanks.
Corrie had come to Rafah a paper radical, primed for outrage, but with little real-world experience. That changed immediately. On her first night in Rafah, she and two other human shields, a fellow Olympian and an Italian, set up camp in a heap of rubble inside Block J, a densely populated neighborhood along the Pink Line and frequent target of gunfire from an Israeli watchtower. By placing themselves between the Palestinian residents and the troops, and hanging up banners announcing the presence of "internationals," the activists hoped to discourage the shooting. But the plan backfired. Huddling in terror as Israeli troops fired bullets over their tent and at the ground a few feet away, the three activists decided that their presence at the site was provoking the soldiers, not deterring them, and abandoned the tent. Corrie was so shaken by the experience that she resumed the smoking habit she had quit a year earlier. Within a week she was smoking two packs a day -- harsh, Pakistani-made Royals -- leaving her with a chronic, hacking cough.
Corrie also learned that she had waded into a situation more complex than she'd imagined. Instead of embracing the ISM team as saviors, many Palestinians regarded them with suspicion, even hostility. Weeks before her arrival, activists had erected tents near Israel's new security fence. Corrie worked hard to break down the barriers. She learned a few phrases of Arabic and tried them out at every opportunity. Trying to integrate herself into the community, she denounced the "crimes" of the Bush administration at a mock trial, taught English, learned traditional dances from Palestinian kids, and proposed cultural exchanges as part of her "sister cities" project. But her main focus was on direct action.
She was propelled, in part, by frustration. She and the nine other ISM activists had become preoccupied with an anonymous letter circulating through Rafah that cast suspicion on the human shields. "Who are they? Why are they here? Who asked them to come here?" it asked. The letter referred to Corrie and the other expatriate women in Rafah as "nasty foreign bitches" whom "our Palestinian young men are following around." It was a sobering reminder that outsiders -- even international do-gooders -- were untrustworthy in the eyes of some Palestinians.
In mid-January, the IDF bulldozers had demolished two of Rafah's six wells, claiming that gunmen had fired from the well houses upon the Rafi Yam settlement, 500 yards away. Whatever the cause, the attack had cut off half of the city's water supply. Rafah's municipal water director had asked the foreign activists to serve as human shields during the repair work. According to the Israeli army, as Corrie guarded the well, two D9 bulldozers, accompanied by a small tank, left their base along the Egyptian border at 1:17 p.m. and lumbered toward the no man's land surrounding Samir Nasrallah's home in Hai as-Salam. Israel says that the crew's assignment was to sweep the area for booby traps planted by militants.
Five members of the ISM team were in place by the time Corrie and two others arrived. Positioned near Nasrallah's house, they waved banners, called to the troops through their megaphones, and attempted to obstruct the bulldozers' movements. Just before five o'clock, one of the D9s rumbled lazily toward a high cinder-block wall near Nasrallah's house. Corrie swiftly positioned herself between the wall and the bulldozer, then about 30 yards from her. At 5:04, the bulldozer driver's voice crackled over Israeli military radio. Speaking Hebrew with a thick Russian accent, the soldier blandly announced, "I hit someone." At 5:03, a Palestinian Red Crescent ambulance received a call and arrived at the scene four minutes later. Corrie still lay half buried in sand. "She had no pulse, she wasn't breathing, her eyes were dilated," paramedic Ashraf Shafeeq al-Khateeb told me. "We used a neck collar and a board to stabilize the body, cleared an airway, and used cpr with suction." The ambulance delivered her to the Abu Yusuf al-Najjar Hospital at 5:15 "as a dead body," according to the medical report.
Five days after her death, Rachel Corrie's body was shipped home to Olympia. For more information, visit http://www.motherjones.com/politics/2003/09/death-rachel-corrie.
Edward Norman "Ike" Corey (13 July 1894 - 17 Sep 1970), Major League Baseball pitcher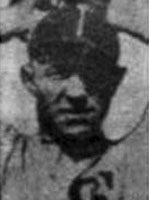 Born Abraham Simon Cohen on July 13, 1894, Chicago, IL. He was a Major League Baseball pitcher. Ed changed his name to Corey to stop the ethnic slurs that he faced when playing baseball.
Corey played only one major league game as a right hand picture in his career, in the 1918 season, with the Chicago White Sox. He pitched, July 2, 1918, two innings, giving up one run, on two hits, with one walk allowed. He had a 4.50 ERA. Ed pitched in other leagues, including the Mid-West League.
Corey died September 17, 1970 in Kenosha, Wisconsin and is buried a Sunset Ridge Memorial Park, Kenosha, WI
Irwin Corey (July 29, 1914 - February 6, 2017)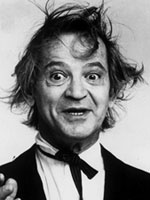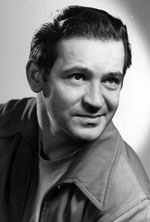 "Professor" Irwin Corey was an American comic, film actor and left-wing political activist, who was often billed as "The World's Foremost Authority". He introduced his unscripted, improvisational style of stand-up comedy at Enrico Banducci's San Francisco club the hungry i.
Irwin Corey was born Irwin Eli Cohen in 1914 in Brooklyn, New York. Poverty stricken, after his father deserted the family, his mother was forced to place him and his five siblings in the Hebrew Orphan Asylum of New York, where Corey remained until the age of 13, when he rode the rails out to California and enrolled himself at Belmont High School in Los Angeles. During the Great Depression, he worked for the Civilian Conservation Corps, and while working his way back East, became a featherweight Golden Gloves boxing champion.
Corey has always supported left-wing politics, and has appeared in support of Cuban children, Mumia Abu-Jamal, and the American Communist Party, which resulted in his eventual Hollywood blacklisting in the 1950s, the effects of which he says still linger on to this day. (Corey never returned to Late Night with David Letterman after his first appearance in 1982, which he claimed was a result of the blacklist still being in effect.) During the 1960 election, Corey campaigned for president on Hugh Hefner's Playboy ticket.
He accepted the National Book Award Fiction Citation on behalf of Thomas Pynchon for Gravity's Rainbow in 1974. He is also briefly mentioned in Chapter 22 of the Robert A. Heinlein novel Friday, but as "the World's Greatest Authority."
Irwin Corey resided in an 1840 carriage house on East 36th Street, Murray Hill neighborhood of New York City. He was married circa 1940 to his wife, Fran, who died in May 2011. The couple had two children, a daughter, the late Margaret Davis, née Corey, an actress; a son, Richard, a painter; and a two grandsons, Amadeo Corey and Corey Meister.
He died at the age of 102 on February 6, 2017 at his apartment in Manhattan with his son Richard at his side. The comedian had been sick earlier this year — but he'd been sent home from the hospital after seeming to recover. His last meal, his daughter-in-law said, consisted of ice cream and egg drop soup.
Jeff Corey (10 August 1914 - 16 August 2002)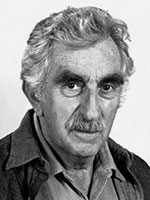 Jeff Corey (born Arthur Zwerling) born on August 10, 1914, in Boro Park, Brooklyn, New York. Jeff Corey was a film and television character actor as well as one of the top acting teachers in America.
Having developed a taste for performing at summer camp and while a student at New Utrecht Training School (the Brooklyn academy later changed its name to New Utrecht High School when the acronym N.U.T.S. prompted sniggers), Corey was able to continue his theatrical training by winning the coveted Milward Adams Memorial Scholarship, which gave him two years at the Feagin School of Drama and Radio in Manhattan. He honed his craft as well by performing summer stock in the Catskills, children's theatre, and Shakespeare and Ibsen at Al Jolson's former show place at 58th Street and 7th Avenue. With the establishment of the Public Works Administration, Corey toured with the Federal Theatre Project.
Married in 1938, Corey was eager to begin the life of a family man but had to second guess his career choices when funding expired for the Federal Theatre Project. Corey was persuaded by his wife to give Hollywood a try, having played many small theatres in and around Los Angeles when he toured with Leslie Howard. Lee J. Cobb, a recent arrival himself, whom Corey had known in New York. Cobb put the Hollywood hopeful in touch with another East Coast apostate, Jules Dassin, then an apprentice to Garson Kanin and Alfred Hitchcock. Dassin put the Zwerlings (Jeff Corey would only later adopt his stage name, on the advice of his manager) up in his Hollywood Hills home and Jeff Corey's first job was as a babysitter to Dassin's son Joseph. Better-paying work soon followed.
He made his big screen debut as a hoodlum in the Columbia racket-busting romp I AM THE LAW (1938) starring Edward G. Robinson and he soon racked up a raft of credits (if not literally – he rarely received onscreen credit) in such films as YOU'LL FIND OUT (1940), THE DEVIL AND DANIEL WEBSTER (1941), ROXIE HART (1942), FRANKENSTEIN MEETS THE WOLFMAN (1943), THE MOON IS DOWN (1944), SOMEWHERE IN THE NIGHT (1946, above), and THE KILLERS (1946); Corey's performance as doomed criminal Blinky Franklin in THE KILLERS (1946) makes you forget Burt Lancaster for a while.
Corey was so highly regarded by his colleagues that he was persuaded to teach acting, which he began doing in 1949. But it was his own association with left-leaning New York theatre that got him into trouble in September 1951, when the House on Un-American Activities Committee began its second round of investigations. Fingered by actor Marc Lawrence as a potential Red (Corey had attended Communist Party meetings in New York but never joined), Corey proved himself a hostile witness for HUAC, answering his subpoena in aviator shades and refusing to play ball.
Unemployed at age 37 and with three children to feed, Corey went to work as a carpenter and day laborer. He used his handyman skills to convert his garage into a proper studio and took on more acting students. It was Pat Boone who put Corey back to work, forcing 20th Century Fox to hire his former mentor for a role in THE YELLOW CANARY (1963). Once Corey put his foot back over the threshold he never stopped working.
Jeff Corey died of complications suffered from a fall in his Malibu home on August 16, 2002, less than a week after turning 88. At the time of his death he still had 25 students registered in his acting class. For more information, visit http://moviemorlocks.com/2014/05/09/people-you-should-know-jeff-corey/.
Jill Corey (born September 30, 1935) is a retired American traditional pop singer.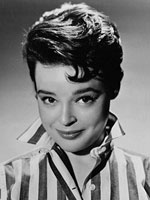 Born Norma Jean Speranza in Avonmore, Pennsylvania. She had an audition with Arthur Godfrey and Dave Garroway. Both Garroway and Godfrey called her, and it was her choice to pick one; she picked Garroway, who took the name Jill Corey out of a telephone book.
She worked on television in New York with Garroway, Robert Q. Lewis, and Ed Sullivan. In 1956 she became a regular on Johnny Carson's CBS-network comedy-variety show from California. In addition, she had her own syndicated radio and television shows, and became the last featured singer on Your Hit Parade. In 1959 she starred in a feature-length musical film for Columbia Pictures, Senior Prom.
A two-CD compilation of her complete singles was released in June, 2015.